Mapping out the future opportunities for sludge management in China
Upload time:2021-07-28
Wastewater produced by China's growing population looks set to create one of the world's largest markets for sludge management processes in years to come – if the government and utilities can create the right environment for investment.
Chinese municipal sludge production reached 47.75 million tonnes in 2019, up 25% from 2015. Less than 35% of the sludge generated is treated with advanced solutions like drying, thermal reduction, anaerobic digestion, and sludge-to-biofuels conversion, with the rest of the sludge being dumped in landfill, sent for land spreading, or in some cases disposed into the environment without any further treatment, after being dehydrated to a primary water content level of around 80%.
Without clear mandatory policies outlining treatment routes for sewage sludge, the sludge handling market in China has progressed slowly over the past three decades. Where sludge is treated, the country has largely relied on simple methods like thickening and dewatering, before shipping the dehydrated sludge to landfills. This started to change when the central government unveiled a RMB34.7 billion ($5.42 billion) investment goal for sludge treatment facilities in the 12th Five-Year Plan it issued in April 2012. Over 100 advanced sludge projects have now emerged in the market in the past ten years, mostly in wealthier cities such as Beijing, Shanghai, Guangzhou and Shenzhen, and in areas along the Yangtze River Delta Economic Zone.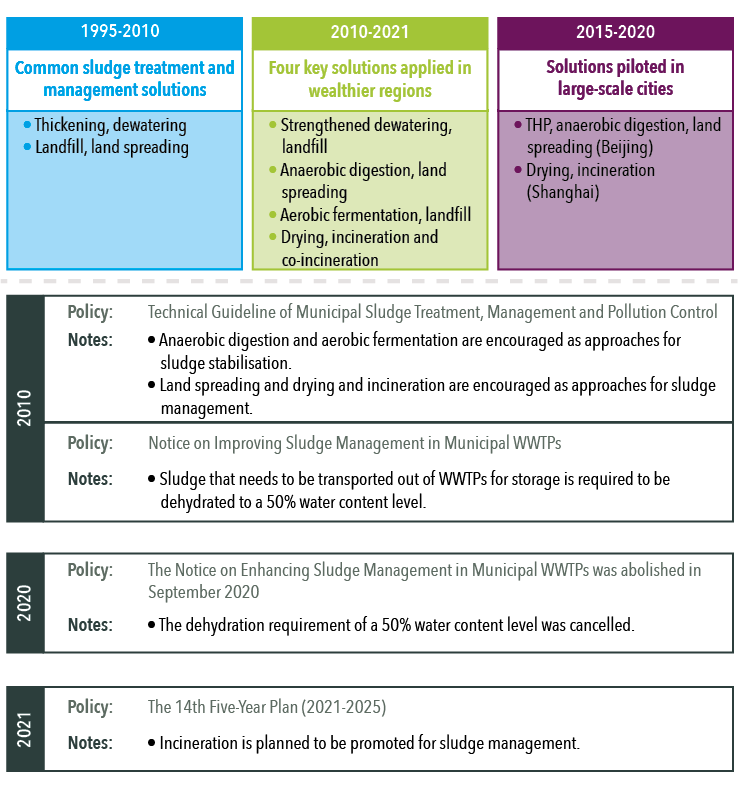 Professor Xiaohu Dai, the dean of Tongji University's Environmental Science and Engineering College, told GWI: "Among the four key advanced sludge treatment and disposal methods, the approach of strengthened dewatering before landfilling accounts for the largest proportion of around 50%-60%, driven by the Chinese government's requirements for the treated sludge's water content level. Meanwhile, the use of anaerobic digestion before land spreading and aerobic fermentation before landfilling between them account for approximately 10%-20%, with the remaining installations deploying other methods such as drying followed by incineration or co-incineration. Nevertheless, the wide application of strengthened dewatering followed by landfilling, which can result in high levels of carbon emissions, is expected to slow down as the country begins to lay more emphasis on the carbon footprint of environmental management processes."
Considering China's limited landfill capacity, as well as the restraints on land spreading as a result of the problem of heavy metals in Chinese sludge, incineration is expected to be the quickest-growing model for sludge management over the next five years, as advised in the recent 14th Five-Year Plan, covering the period 2021-2025.
"The majority of China's current sludge incineration projects are co-incineration, with sewage sludge being burnt and co-processed in power plants, in a bid to reduce the cost," Weijie Hu, an engineer at the Shanghai Municipal Engineering Design Institute, told GWI. "Nevertheless, in the long-term view, incineration with sewage sludge will become more common than sludge co-incineration, as the pollution controls for air emissions from coal and sludge co-fired power plants are increasingly tightened. Shanghai issued a new standard of this type in April this year which means the power plants that deal with coal and municipal sludge together would need to increase investment in the follow-up flue gas treatment, and would therefore weaken the cost advantage of the sludge co-incineration approach."

International footprints
Most foreign sludge technology suppliers are looking to carve out a space in China through technical excellence in advanced anaerobic digestion, drying, and incineration. However, major water operators such as Veolia and Suez have tapped into the market either by piloting technology offerings in their existing Chinese wastewater assets or through project investment based on concessions or build-operate-transfer (BOT) business models.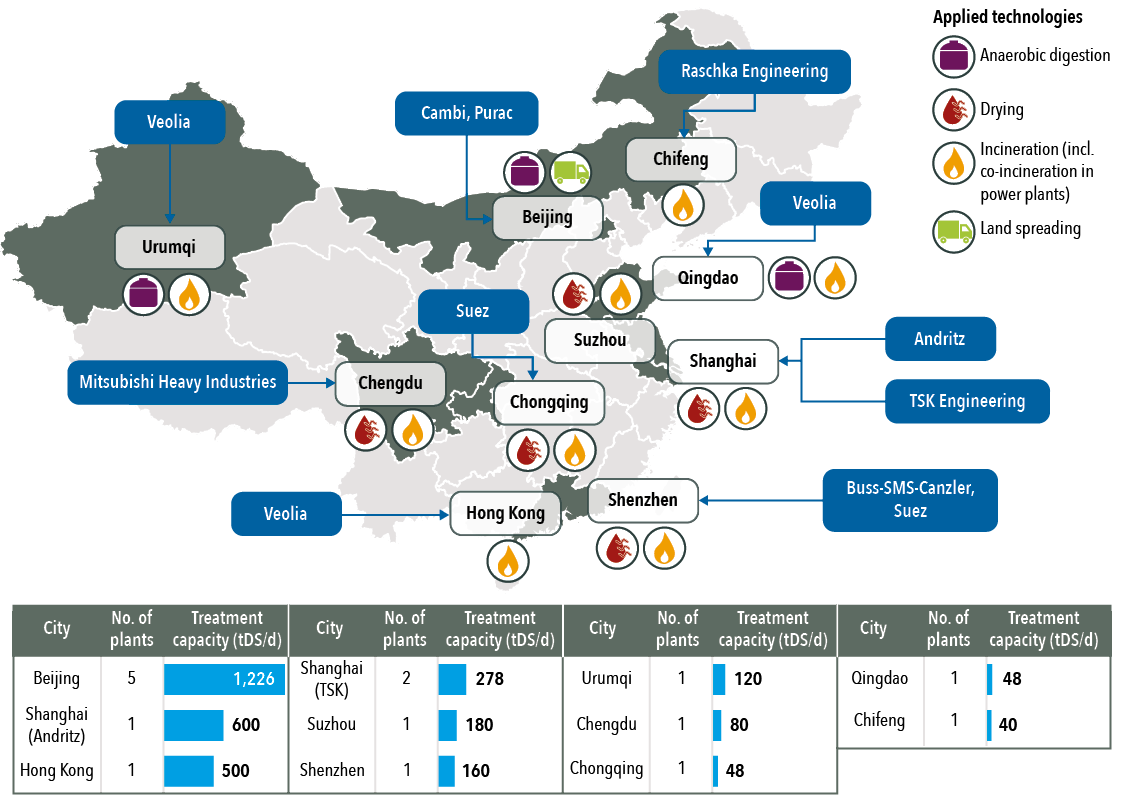 Veolia built a sludge-to-energy facility for its wastewater BOT project in Urumqi, Xinjiang Uygur Autonomous Region, which treats sewage sludge and captures methane by applying its anaerobic digestion solutions, with co-generation as the disposal method. It also won the contract to design, build and operate a large-scale Hong Kong sludge incineration plant in 2010 with a treatment capacity of 500 tonnes of dry solids per day (tDS/d).
Suez, which first stepped into the Chinese sludge market in the early 1980s by providing thickening and dewatering solutions to two plants in Tianjin, has been actively involved in sludge drying and incineration projects in China's coastal regions. The company won a 30-year sludge concession project in Suzhou in 2009, with a treatment capacity of 180 tDS/d, through the establishment of a joint venture with a local governmental-controlled entity.

"In our Suzhou project, the dried sludge is reused as fuel to be burnt in the co-generation plant, while the excess heat and ashes from the co-generation plant are recycled by the sludge drying facility and the nearby cement factory, respectively," Bao Yue, the sludge business director of Suez China, told GWI. "We then copied this model, including both project procurement and the sludge management process, to two other projects in Yangzhou and Xiangcheng in 2014 and 2016." Suez signed a 30-year BOT-type contract in 2018 to use its fluidised bed incineration solution at the 160 tDS/d Shangyang sludge-to-energy recovery project in Shenzhen.
Meanwhile, international sludge technology suppliers are more likely to supply equipment directly to domestic sludge engineering, procurement and construction (EPC) contractors or directly to local utility end-users.
This also covers incineration technologies – Austrian equipment manufacturer Andritz secured a €120 million ($146 million) order in 2018 to supply a complete sludge drying and incineration system with a capacity of 600 tDS/d for the expansion of the Shanghai Bailonggang WWTP, which is known as the largest sludge incineration project built in China to date.
Japanese water treatment solutions providers TSK Engineering and Mitsubishi Heavy Industries are also active in the market, with a number of references in Shanghai and Chengdu. Meanwhile, German waste-to-energy company Raschka Engineering provided its fluidised bed incinerators for a municipal sludge project in Chifeng city, Inner Mongolia, in 2013.
When it comes to the implementation of advanced anaerobic digestion technologies in China, a typical case is the application of the packaged solution comprising Cambi's thermal hydrolysis process (THP) and Purac's anaerobic digestion process in five WWTPs in Beijing, which have a large combined sludge treatment capacity of over 1,200 tDS/d. The treated sludge is used for land spreading.
By producing methane which could be recovered as biogas for energy, anaerobic digestion was expected to provide great economic benefits combined with a low carbon footprint for processing the sewage sludge. However, the practical adoption of this solution remains challenging in China as the sludge from a great number of Chinese cities contains low levels of organic matter, with around 30% to 40% organic content in dry sludge. As a result it can only produce a limited amount of methane, making biogas production relatively impractical.
With this in mind, the main challenge for technology providers is to find the right projects. "We are mainly seeking opportunities in two types of projects in China," said Di Deng, the technical sales manager of Cambi China. "The first one is greenfield projects in large cities where local governments have adequate budgets for sludge treatment infrastructure. The other target is existing facilities that need upgrading, in which our THP solutions increase the efficiency of the anaerobic digestion process, for example the thermal hydrolysis contract we secured last year for the Shek Wu Hui Sewage Treatment Works Expansion Project in Hong Kong. Thermal hydrolysis is most suitable in projects where the municipal sewage sludge has an organic matter level above 60%."
Despite the issue of low organic content, anaerobic digestion is expected to be taken up at an increasing pace in the medium term, as China's wastewater infrastructure is improved.
"The collected waste influents of municipal WWTPs in China are always of low organic concentration and combined with stormwater and groundwater inflows due to broken pipes and insufficient local wastewater collection, which is the most important reason for the fact that Chinese sludge exhibits lower organic content and higher sand content than the sludge in developed western countries," Professor Dai told GWI. "But this situation is going to change, driven by the country's ambitious environmental programmes, such as the three-year action plan (2019-2021) which aims to improve treatment efficiency and effluent quality in urban wastewater treatment systems."
Challenges and procurement models
Despite a huge potential for future improvements, the Chinese sludge market is still immature, as there remain several issues to be further addressed. The low level of wastewater tariffs, insufficient financial support from the government, and a lack of national-level sludge disposal standards are the major barriers for the ramp-up of more meaningful sludge treatment and disposal projects in the country.
Although the central authorities have required wastewater tariffs nationwide to cover more infrastructure improvement costs – RMB0.95/m³ ($0.15/m³) for urban residential usage and RMB1.40/m³ ($0.22/m³) for non-residential usage in urban areas – this is still far from sufficient to create incentives for utilities to build advanced sludge management facilities. This is especially true considering the hefty investments required in WWTP upgrades and pipeline renovation, which rank as more urgent requirements pushed by the stringent wastewater regulations.
The current level of government subsidy and market investment has also failed to meet the high capital and operational costs of sludge facilities with better treatment processes.
"The government subsidies available for sludge management vary across cities, usually in a range of RMB100-300 ($16-47) per metric tonne for incineration and anaerobic digestion approaches," one industrial insider told GWI. "However, it is rather difficult for many cities to apply for the subsidies from the central government, with a success rate of around 20-30%. This, therefore, has led to the cancellation of quite a few proposed sludge projects."
While financing and policy obstacles remain a key factor hindering the advance of China's sludge market, price competition is also getting much more severe as local sludge players' capabilities grow. This narrows the profit margins for foreign technology firms to some extent, especially compared to the period in the early 2000s when international innovative sludge treatment solutions were playing a leading role in China's advanced sludge projects.
"What we observed is that price usually weighs at least half in the tender scoring system in China. Many water utilities still seem to prefer a lower initial cost, instead of full lifecycle savings and operational benefits," said Deng.
Alongside this, with the number of BOT projects decreasing in recent years, the major procurement models in the Chinese sludge market are also changing. "Domestic sludge treatment and disposal projects are now mainly procured in two ways – EPC contracts led by local design institutes, and direct equipment purchases by local utility and government clients," Hu explained to GWI.
Facing this situation, Suez in particular is aiming to get involved in the operations and management contracts that follow EPC sludge projects. "We believe that the market demand for professional sludge operating services is sure to grow. This will become one of our key strategic business models in China's sludge management space," Yue said.

This article is from this page, welcome to click it to read the full content.