INTEGRATED BELT-TYPE SLUDGE DRYER
The dryer adopts direct low temperature drying. Direct low temperature drying makes hot effect on sludge, producing high thermal efficiency. Moreover, low temperature protects organism in the sludge from splitting and volatilization, while the circulation hot wind takes only water out from the sludge.
Shincci drying temperature is 45-50℃ (temperature of the recycle to dehumidification heat pump), while blowing-in temperature is 60-75℃ (bottom layer).
Dehumidification heat pump sludge dryer makes use of dehumidification heat pump to carry out the sludge through hot-air recycling, condensing, dehumidifying and drying. The evaporation of the sludge moisture produces latent heat. And the condensation of vapor on heat pump requires latent heat as well. Both process of latent heat is equal according to the law of conservation of energy. As a result, drying process does not require additional heat capacity. The energy consumed during the process is the electricity for the input to compressor, fan and motor.
This dehumidification dryer is equivalent to the combination of dehumidification heat pump and mesh belt conveyor (playing the role of sludge placement).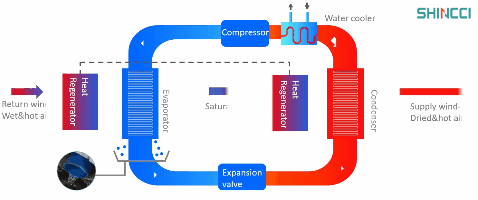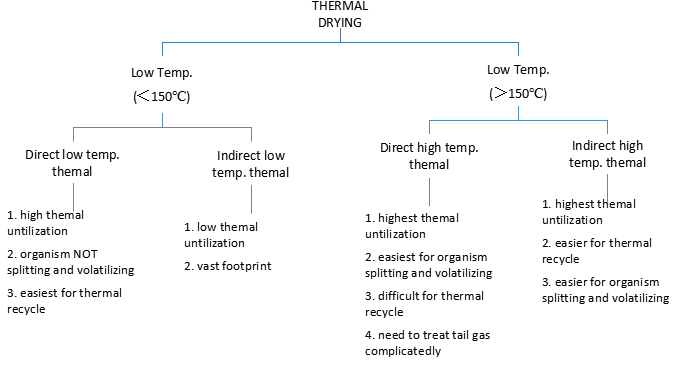 Parameters[SHS**FL]
SHS Series provides higher capacity, dryness and low energy consumption.
They are the new generation machines.
If you want to know the field application of a certain model, you can copy the product model and search in search bar.
COMMON TECHNICAL SPECS
Cooling Method
Forced-air Cooling FL
Refrigerant
R134a
Drying Temperature
48~56℃(recycle air)/ 65~80℃(supply air)
Control System
Touch screen + PLC programmable controller
SHS750FL

TECHNICAL SPECS
Standard Dehumidification Capacity
750 kg

/24h

Standard Dehumidification Capacity
31.3 kg/h
Rated Standard Operating Total Power
10 kw

Distribution Power

12 kw
Module Quantity
1 SET
Refrigerating System

1 SET

Dimensions
2625×1277×1850 mm
Structure
Whole Set
Weight
1.6 Ton

SHS1350FL

TECHNICAL SPECS
Standard Dehumidification Capacity
1350 kg

/24h

Standard Dehumidification Capacity
56.3 kg/h
Rated Standard Operating Total Power
18 kw

Distribution Power

22 kw
Module Quantity
1 SET
Refrigerating System

1 SET

Dimensions
3470×1277×2320 mm
Structure
Whole Set
Weight
2.0 Ton

SHS3000FL

TECHNICAL SPECS
Standard Dehumidification Capacity
3000 kg

/24h

Standard Dehumidification Capacity
125 kg/h
Rated Standard Operating Total Power
35 kw

Distribution Power

42 kw
Module Quantity
1 SET
Refrigerating System

4 SET

Dimensions
4100×2140×2240 mm
Structure
Whole Set
Weight
3.2 Ton

SHS6000FL

TECHNICAL SPECS
Standard Dehumidification Capacity
6000 kg

/24h

Standard Dehumidification Capacity
250 kg/h
Rated Standard Operating Total Power
67 kw

Distribution Power

80 kw
Module Quantity
2 SET
Refrigerating System

8 SET

Dimensions
6800×2140×2240 mm
Structure
Assembled Set
Weight
5.8 Ton

SHS9000FL

TECHNICAL SPECS
Standard Dehumidification Capacity
9000 kg

/24h

Standard Dehumidification Capacity
375 kg/h
Rated Standard Operating Total Power
99 kw

Distribution Power

119 kw
Module Quantity
3 SET
Refrigerating System

12 SET

Dimensions
9500×2140×2240 mm
Structure
Assembled Set
Weight
8.0 Ton

SHS10800FL

TECHNICAL SPECS
Standard Dehumidification Capacity
10800 kg

/24h

Standard Dehumidification Capacity
450 kg/h
Rated Standard Operating Total Power
118 kw

Distribution Power

142 kw
Module Quantity
4 SET
Refrigerating System

8 SET

Dimensions
8050×3060×2750 mm
Structure
Assembled Set
Weight
9.1 Ton

SHS16200FL

TECHNICAL SPECS
Standard Dehumidification Capacity
16200 kg

/24h

Standard Dehumidification Capacity
675 kg/h
Rated Standard Operating Total Power
174 kw

Distribution Power

209 kw
Module Quantity
6 SET
Refrigerating System

12 SET

Dimensions
11300×3060×2750 mm
Structure
Assembled Set
Weight
12.3 Ton

SHS21600FL

TECHNICAL SPECS
Standard Dehumidification Capacity
21600 kg

/24h

Standard Dehumidification Capacity
900 kg/h
Rated Standard Operating Total Power
230 kw

Distribution Power

276 kw
Module Quantity
8 SET
Refrigerating System

16 SET

Dimensions
14550×3060×2750 mm
Structure
Assembled Set
Weight
15.5 Ton

SHS27000FL

TECHNICAL SPECS
Standard Dehumidification Capacity
27000 kg

/24h

Standard Dehumidification Capacity
1125 kg/h
Rated Standard Operating Total Power
286 kw

Distribution Power

343 kw
Module Quantity
10 SET
Refrigerating System

20 SET

Dimensions
17800×3060×2750 mm
Structure
Assembled Set
Weight
17.7 Ton

SHS32400FL

TECHNICAL SPECS
Standard Dehumidification Capacity
32400 kg

/24h

Standard Dehumidification Capacity
1350 kg/h
Rated Standard Operating Total Power

343

kw

Distribution Power

412 kw
Module Quantity
12 SET
Refrigerating System

24 SET

Dimensions
21050×3060×2750 mm
Structure
Assembled Set
Weight
21.9 Ton