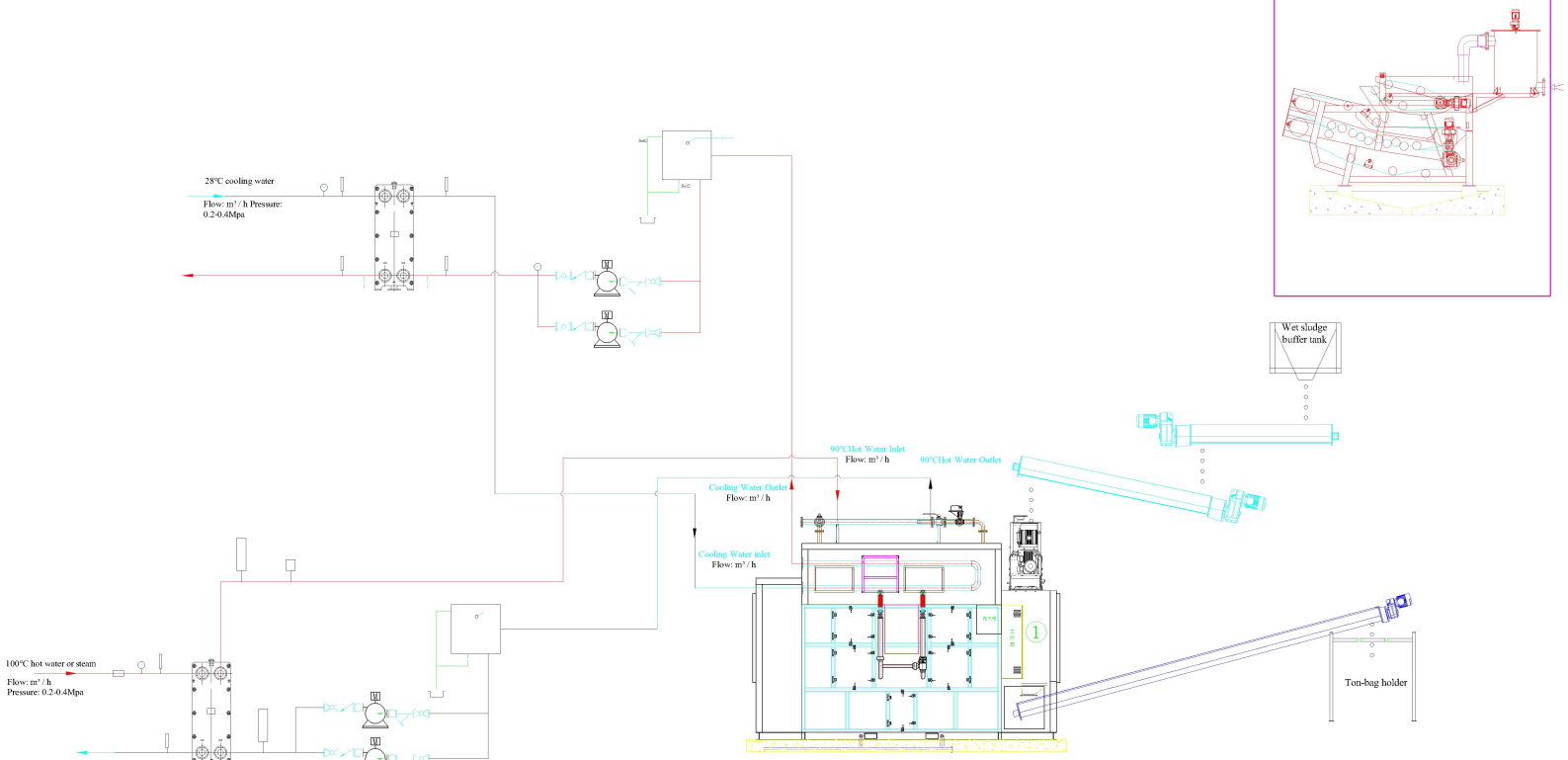 The waste heat dryer's heater and cooler used to condense and dehumidify the sludge by hot air circulation.
Dehumidification recycle the latent heat of water vapor and sensible heat of air, without any waste heat discharge in the process.
90% of traditional sludge thermal drying system converts heat into exhaust heat loss (latent heat and hot air sensible heat)
Waste heat dryer utilized low-graded excessive thermal source, such as flue gas waste heat; Steam or Steam condensate water; Anaerobic digestion (obtain fuel gas to heat water); Sludge pyrolysis (obtain fuel gas to heat water); and Gen-set waste heat, so as to transferred into 90C hot water for drying. Because of using waste-heat, the drying process does not require additional heat capacity, like heating oil or natural gas. It is a creation for CHP solution. The energy consumed during the process is the electricity for the input to conveyor, fan and motor.


This dehumidification dryer is equivalent to the combination of dehumidification waste-heat exchanger and mesh belt conveyor (playing the role of sludge placement).


Dehumidification waste-heat exchanger

Dehumidification waste-heat exchanger is like dehumidification heat pump. It utilizes refrigeration system to cool and dehumidify hot and wet air. The Cooler plays the role as evaporator of heat pump, while the Heater plays the role as condenser. The Heater provides the supply air with drying thermal, while the Cooler provides the moisture steam with cold source for condensation.
The Heater gets the thermal from 90℃water, while the Cooler gets the cold source from 33℃water.


SHS Series is the new generation of waste heat belt dryer.


If you want to know the field application of a certain model, you can copy the product model and search in search bar.
COMMON TECHNICAL SPECS
Standard Heat-supplied conditions
85℃/65℃ (hot water, steam, etc.)
Standard drying temperature
48~60℃(return air)/68~85℃(supply air)
Standard Cooling Condition
33℃/45℃(cooling water)(△t=12℃)
Control System
Touch screen + PLC programmable controller
SHS20000WHD

TECHNICAL SPECS
Rated Standard Dehumidification Capacity
20000 kg

/24h

Rated

Standard Dehumidification Capacity
832 kg

/h

Rated Standard Operating Power
66 kw
Distribution Power
79 kw
Standard Heat-supplied Power

720

kw

Module Quantity
4
Hot Water Flow Rate

31.2 m³/h

Standard Cooling Power

640

kw

Cooling Water Flow Rate

46 m³/h

Module Quantity
6 SET
Size(L*W*H)
12200*4100*3300 mm
Structure
Assembled set
Weight
12.0 Tons

SHS30000WHD

TECHNICAL SPECS
Rated Standard Dehumidification Capacity
30000 kg

/24h

Rated

Standard Dehumidification Capacity
1248 kg

/h

Rated Standard Operating Power
92 kw
Distribution Power
110 kw
Standard Heat-supplied Power

1080

kw

Module Quantity
6
Hot Water Flow Rate

46.8 m³/h

Standard Cooling Power

960

kw

Cooling Water Flow Rate

69 m³/h

Module Quantity
8 SET
Size(L*W*H)
16050*4100*3300 mm
Structure
Assembled set
Weight
16.3 Tons

SHS40000WHD

TECHNICAL SPECS
Rated Standard Dehumidification Capacity
40000 kg

/24h

Rated

Standard Dehumidification Capacity
1667 kg

/h

Rated Standard Operating Power
118 kw
Distribution Power
142 kw
Standard Heat-supplied Power

1440

kw

Module Quantity
8
Hot Water Flow Rate

62.4 m³/h

Standard Cooling Power

1280

kw

Cooling Water Flow Rate

92 m³/h

Module Quantity
10 SET
Size(L*W*H)
19900*4100*3300 mm
Structure
Assembled set
Weight
20.6 Tons

SHS50000WHD

TECHNICAL SPECS
Rated Standard Dehumidification Capacity
50000 kg

/24h

Rated

Standard Dehumidification Capacity
2083 kg

/h

Rated Standard Operating Power
144 kw
Distribution Power
173 kw
Standard Heat-supplied Power

1800

kw

Module Quantity
10
Hot Water Flow Rate

78 m³/h

Standard Cooling Power

1600

kw

Cooling Water Flow Rate

115 m³/h

Module Quantity
12 SET
Size(L*W*H)
23750*4100*3300 mm
Structure
Assembled set
Weight
24.9 Tons

SHS60000WHD

TECHNICAL SPECS
Rated Standard Dehumidification Capacity
60000 kg

/24h

Rated

Standard Dehumidification Capacity
2500 kg

/h

Rated Standard Operating Power
170 kw
Distribution Power
204 kw
Standard Heat-supplied Power

2160

kw

Module Quantity
12
Hot Water Flow Rate

93.6 m³/h

Standard Cooling Power

1920

kw

Cooling Water Flow Rate

138 m³/h

Module Quantity
14 SET
Size(L*W*H)
27600*4100*3300 mm
Structure
Assembled set
Weight
29.2 Tons

SHS70000WHD

TECHNICAL SPECS
Rated Standard Dehumidification Capacity
70000 kg

/24h

Rated

Standard Dehumidification Capacity
2917 kg

/h

Rated Standard Operating Power
196 kw
Distribution Power
235 kw
Standard Heat-supplied Power

2520

kw

Module Quantity
14
Hot Water Flow Rate

109.2 m³/h

Standard Cooling Power

2240

kw

Cooling Water Flow Rate

161 m³/h

Module Quantity
16 SET
Size(L*W*H)
31450*4100*3300 mm
Structure
Assembled set
Weight
33.5 Tons

SHS80000WHD

TECHNICAL SPECS
Rated Standard Dehumidification Capacity
80000 kg

/24h

Rated

Standard Dehumidification Capacity
3333 kg

/h

Rated Standard Operating Power
222 kw
Distribution Power
266 kw
Standard Heat-supplied Power

2880

kw

Module Quantity
16
Hot Water Flow Rate

124.8 m³/h

Standard Cooling Power

2560

kw

Cooling Water Flow Rate

184 m³/h

Module Quantity
18 SET
Size(L*W*H)
35300*4100*3300 mm
Structure
Assembled set
Weight
37.8 Tons

SHS10000WH

TECHNICAL SPECS
Rated Standard Dehumidification Capacity
10000 kg

/24h

Rated

Standard Dehumidification Capacity
416 kg

/h

Rated Standard Operating Power
34 kw
Distribution Power
41 kw
Standard Heat-supplied Power
360

kw

Module Quantity
4
Hot Water Flow Rate

15.6 m³/h

Standard Cooling Power

320

kw

Cooling Water Flow Rate

23 m³/h

Module Quantity
6 SET
Size(L*W*H)
8050*3060*2750 mm
Structure
Assembled set
Weight
8.6 Tons

SHS15000WH

TECHNICAL SPECS
Rated Standard Dehumidification Capacity
15000 kg

/24h

Rated

Standard Dehumidification Capacity
624 kg

/h

Rated Standard Operating Power
48 kw
Distribution Power
58 kw
Standard Heat-supplied Power
540

kw

Module Quantity
6
Hot Water Flow Rate

23.4 m³/h

Standard Cooling Power

480

kw

Cooling Water Flow Rate

34.5 m³/h

Module Quantity
8 SET
Size(L*W*H)
11300*3060*2750 mm
Structure
Assembled set
Weight
12.3 Tons

SHS20000WH

TECHNICAL SPECS
Rated Standard Dehumidification Capacity
20000 kg

/24h

Rated

Standard Dehumidification Capacity
832 kg

/h

Rated Standard Operating Power
62 kw
Distribution Power
74 kw
Standard Heat-supplied Power
720

kw

Module Quantity
8
Hot Water Flow Rate

31.2 m³/h

Standard Cooling Power

640

kw

Cooling Water Flow Rate

46 m³/h

Module Quantity
10 SET
Size(L*W*H)
14550*3060*2750 mm
Structure
Assembled set
Weight
14.8 Tons

SHS25000WH

TECHNICAL SPECS
Rated Standard Dehumidification Capacity
25000 kg

/24h

Rated

Standard Dehumidification Capacity
1040 kg

/h

Rated Standard Operating Power
76 kw
Distribution Power
91 kw
Standard Heat-supplied Power
900

kw

Module Quantity
10
Hot Water Flow Rate

39 m³/h

Standard Cooling Power

800

kw

Cooling Water Flow Rate

57.5 m³/h

Module Quantity
12 SET
Size(L*W*H)
17800*3060*2750 mm
Structure
Assembled set
Weight
16.5 Tons

SHS30000WH

TECHNICAL SPECS
Rated Standard Dehumidification Capacity
30000 kg

/24h

Rated

Standard Dehumidification Capacity
1248 kg

/h

Rated Standard Operating Power
90 kw
Distribution Power
108 kw
Standard Heat-supplied Power

108

kw

Module Quantity
12
Hot Water Flow Rate

46.8 m³/h

Standard Cooling Power

960

kw

Cooling Water Flow Rate

69 m³/h

Module Quantity
14 SET
Size(L*W*H)
21050*3060*2750 mm
Structure
Assembled set
Weight
20.4 Tons

SHS35000WH

TECHNICAL SPECS
Rated Standard Dehumidification Capacity
35000 kg

/24h

Rated

Standard Dehumidification Capacity
1458 kg

/h

Rated Standard Operating Power
104 kw
Distribution Power
125 kw
Standard Heat-supplied Power

1260

kw

Module Quantity
14
Hot Water Flow Rate

54.6 m³/h

Standard Cooling Power

1120

kw

Cooling Water Flow Rate

80.5 m³/h

Module Quantity
16 SET
Size(L*W*H)
24300*3060*2750 mm
Structure
Assembled set
Weight
23.4 Tons

SHS40000WH

TECHNICAL SPECS
Rated Standard Dehumidification Capacity
40000 kg

/24h

Rated

Standard Dehumidification Capacity
1667 kg

/h

Rated Standard Operating Power
118 kw
Distribution Power
142 kw
Standard Heat-supplied Power

1440

kw

Module Quantity
16
Hot Water Flow Rate

62.4 m³/h

Standard Cooling Power

1280

kw

Cooling Water Flow Rate

92 m³/h

Module Quantity
18 SET
Size(L*W*H)
27550*3060*2750 mm
Structure
Assembled set
Weight
26.3 Tons

SHS45000WH

TECHNICAL SPECS
Rated Standard Dehumidification Capacity
45000 kg

/24h

Rated

Standard Dehumidification Capacity
1875 kg

/h

Rated Standard Operating Power
132 kw
Distribution Power
158 kw
Standard Heat-supplied Power

1620

kw

Module Quantity
18
Hot Water Flow Rate

70.2 m³/h

Standard Cooling Power

1440

kw

Cooling Water Flow Rate

103.5 m³/h

Module Quantity
20 SET
Size(L*W*H)
30800*3060*2750 mm
Structure
Assembled set
Weight
29.3 Tons

SHS50000WH

TECHNICAL SPECS
Rated Standard Dehumidification Capacity
50000 kg

/24h

Rated

Standard Dehumidification Capacity
2083 kg

/h

Rated Standard Operating Power
146 kw
Distribution Power
175 kw
Standard Heat-supplied Power

1800

kw

Module Quantity
20
Hot Water Flow Rate

78 m³/h

Standard Cooling Power

1600

kw

Cooling Water Flow Rate

115 m³/h

Module Quantity
22 SET
Size(L*W*H)
34050*3060*2750 mm
Structure
Assembled set
Weight
32.2 Tons