Shincci Energy Invite you to 21th IE expo China 2020 on 13th-15th Aug.
Upload time:2020-08-13
With updated craft and generated technology, Shincci focus on low temperature evaporating technology. Looking forward to our meeting at Shanghai New International Expo Centre on 13th-15th Aug., we await you here: Booth No. C23/D23 in pavilion W1.
As a leading company in the low-temperature evaporation industry, Shincci will launch the third-generation low-temperature sludge dryer. With more reasonable design and more efficient performance, it's bound to become a beautiful landscape leading the direction of technology application in the industry.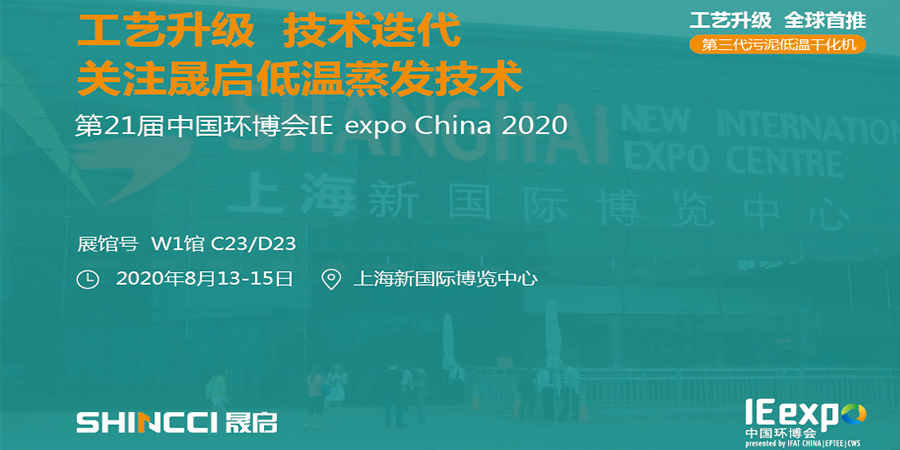 In 2020, Shincci's third-generation low-temperature sludge dryer, first launched in the world, mainly include SHS series integrated sludge low-temperature belt dryer, MHR series multifunctional heat recovery integrated sludge low-temperature belt dryer, etc. , which adopt multi-effect heat recovery technology, available to reach 4.5 dehumidification ratio, and their energy saving performance will be increase by 15%.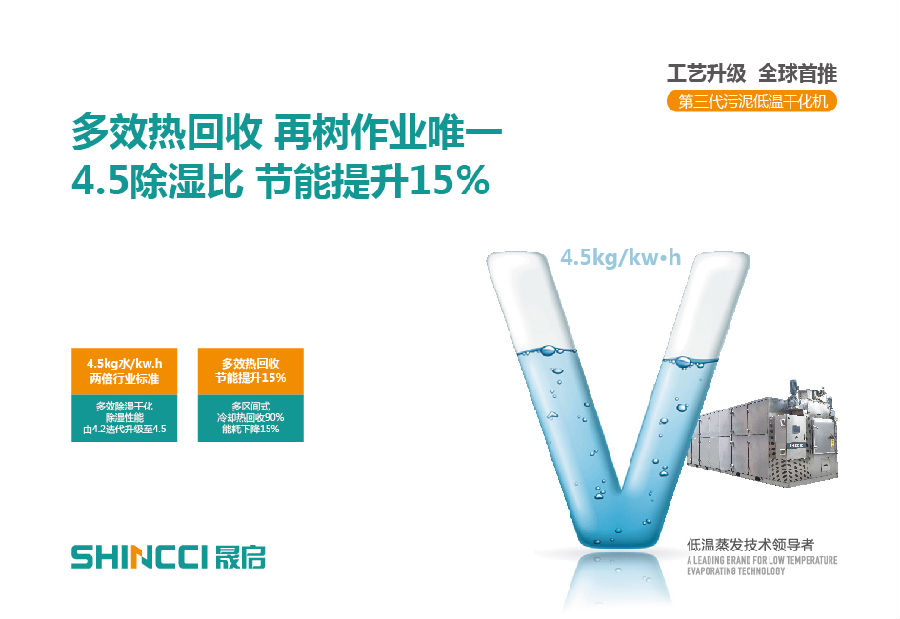 Shincci focus on low temperature technology for over 17 years, the low temperature dryers have been experienced 3 times updates on technology so far.
The new product, which will be unveiled at the World Expo this time, has a dehumidification capacity of 10 tons of water in a monolithic single module, the drying capacity increased by 80%. In order to improve the throughput of sludge drying, the mesh belt of Shincci low-temperature drying products has been upgraded from 0.6 meters wide to the latest 2.2 meters wide, and the drying capacity has been greatly increased. The integrated design of the mesh belt together with the heat pump released 60% of site installations.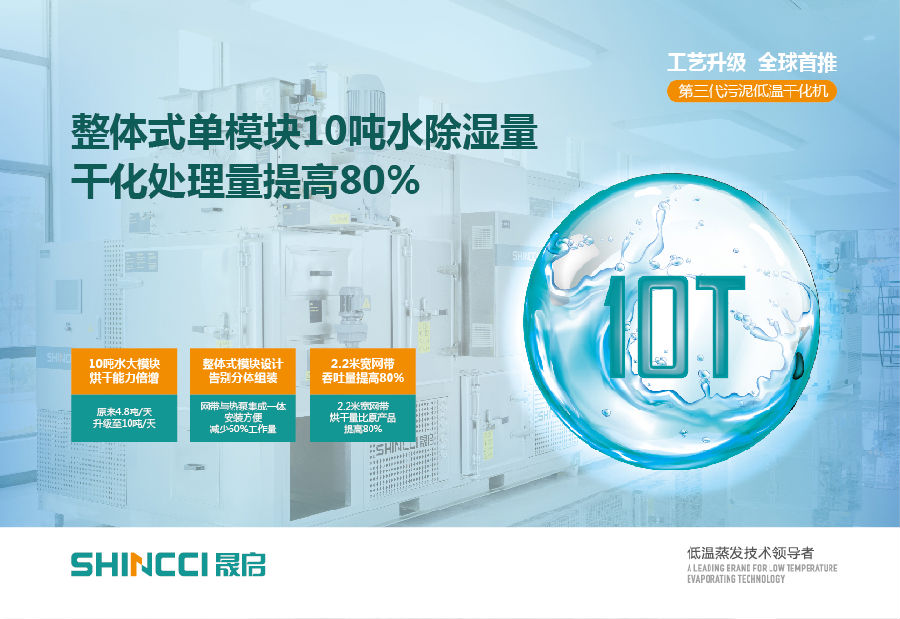 The appearance of the product is carefully considered to every inch details, and the high-quality craftsmanship is within reach, which is more atmospheric and highly recognizable in the bright light and shadow. The material of the product is 304+316L anti-corrosion upgrade, flat aesthetics, and sealing performance improved by 50%. In addition, the new product also has functions such as the independent design of the compressor chamber and automatic dust removal, making users more comfortable in operation and maintenance.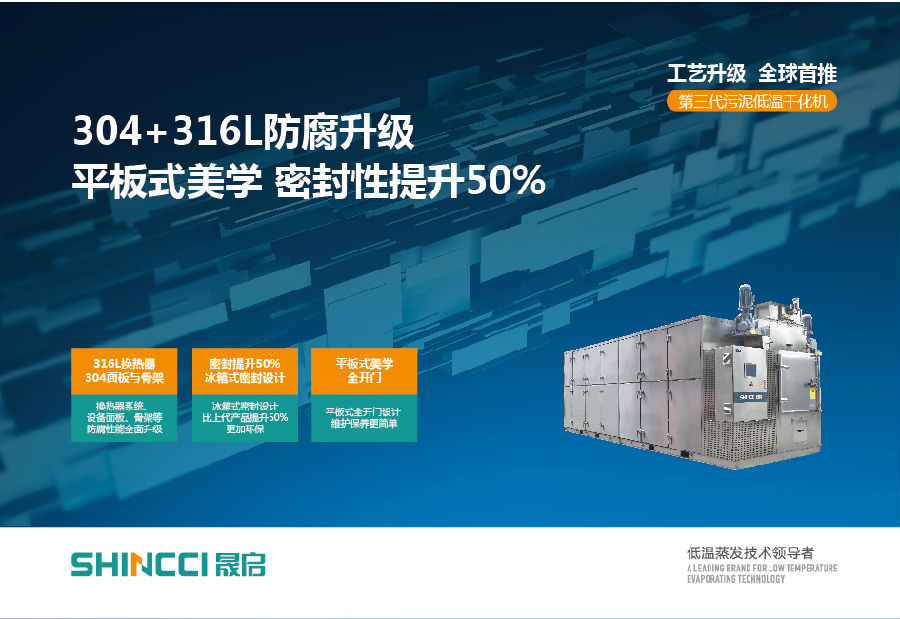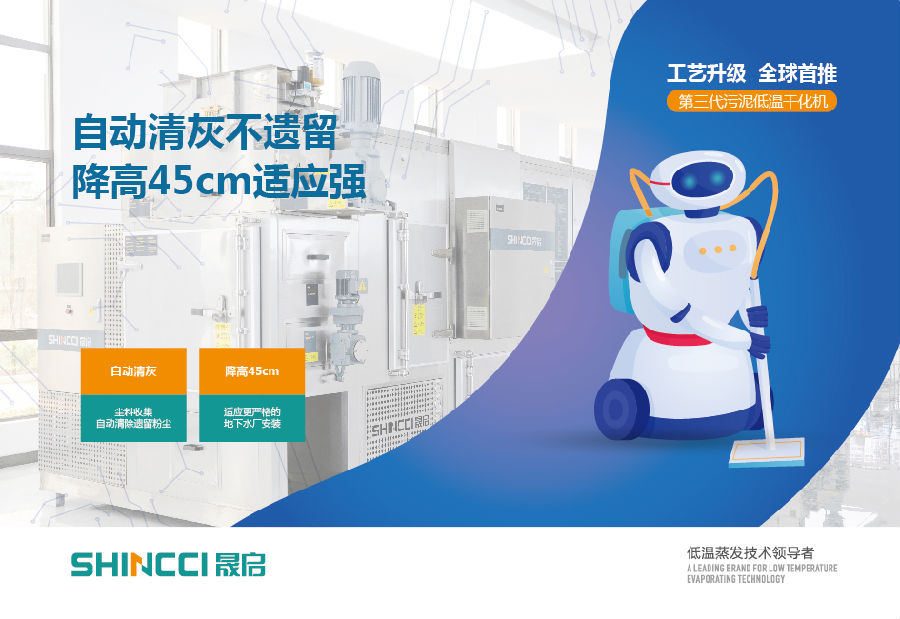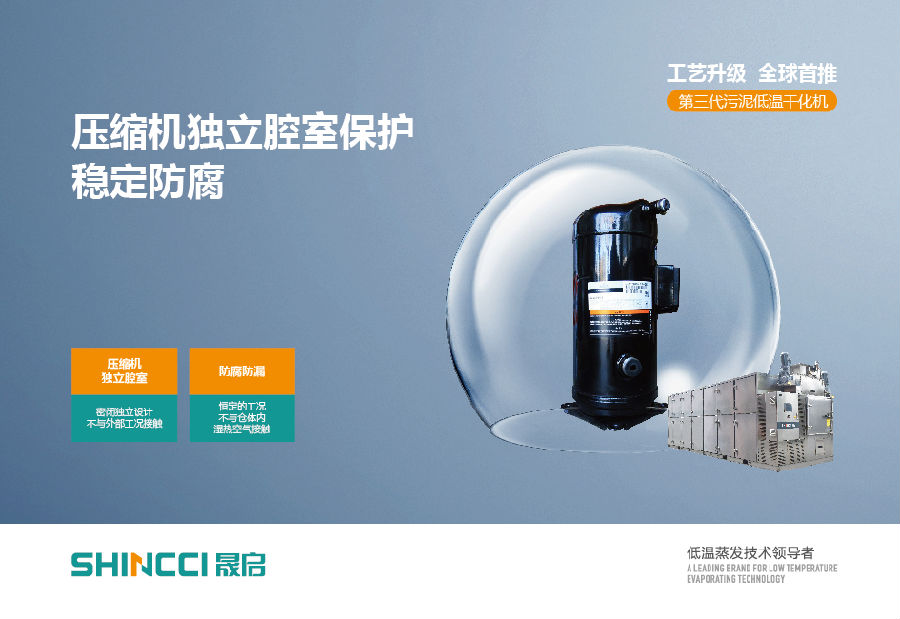 Most of the first generations currently on the market use double-effect dehumidification technology. Non-all stainless steel is prone to rust and corrosion, and the capacity of dehumidification is not satisfy the processing needs. Compared with the second-generation low-temperature sludge drying products with three and four-effect technologies that are rarely used by industry brands, the third-generation low-temperature sludge dryer of Shincci has improved significantly in panels and skeleton materials, heat exchange systems and pipelines, and single-module dehumidification capacity and structural space design.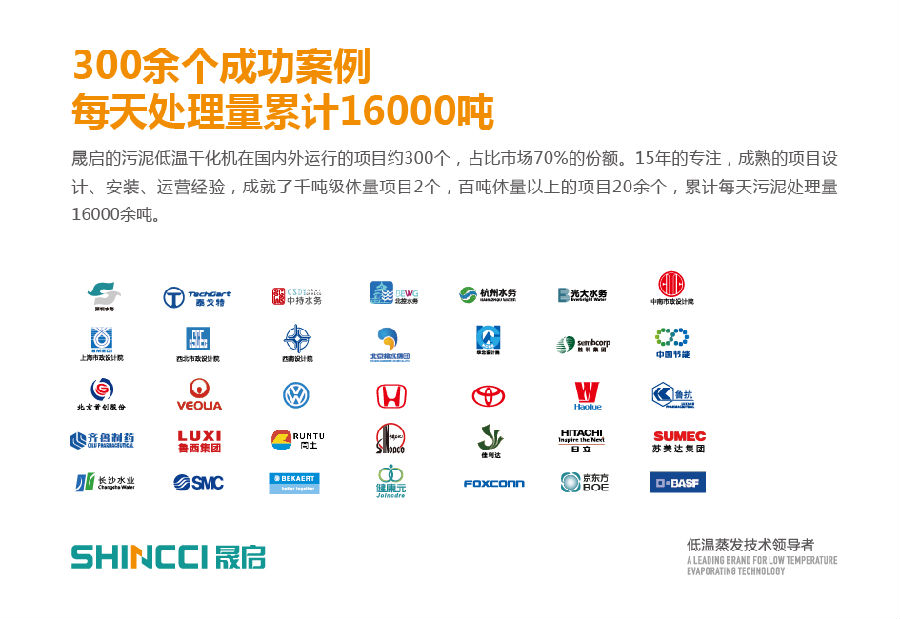 The launch of this series of products is a report of Shincci Energy accumulated industry experience for many years, and it also marks as a corporate responsibility to deal with the key role of the current ecological environment in social development. Here in Shanghai, we welcome all colleagues and friends who are interested in environmental protection to visit and guide us. Let's make greater contributions to the environment together!
From the workshop-style workshop to the first modern factory, Shincci has gone through 17 years of entrepreneurship. We have always adhered to the concept of independent innovation and development. The Shincci team has a firm belief in the development of the low-temperature evaporation business, and has worked hard and persevered.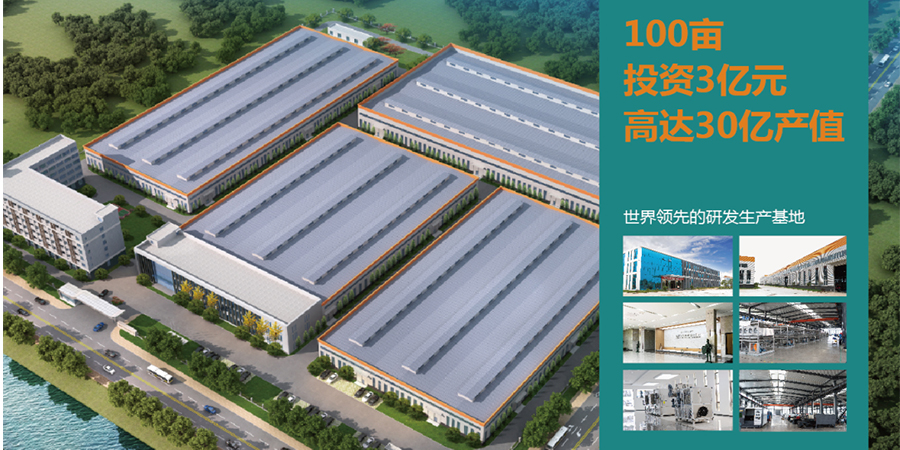 The new factory in Jiujiang covers an area of about100acres,It is the first modern factory built by Shincci since its establishment, marking that Shincci has entered a new stage of development. The new plant will carry the company's production goal ofCNY3,000,000,000in annual output, and is committed to building the first international brand of low-temperature evaporation.