Shincci Sludge Drying Facility Delivery to Ostrov, Poland
Upload time:2020-12-21
2020 is coming to an end, and this year is destined to be an extraordinary year. When the coronavirus epidemic broke out at the beginning of the year, the whole people worked together to fight against the epidemic. Now the epidemic gradually stable and controllable, and the economy is recovered slowly under the united force. Since the outbreak of the epidemic, Guangzhou Shincci Energy Equipment Co., Ltd. (hereinafter referred to as "Shincci") has also adhered to strict safety protection, and meanwhile resume work and production in an orderly manner. The headquarters building of Shincci completed the groundbreaking ceremony on November 7, and the oversea market is steadily expanding.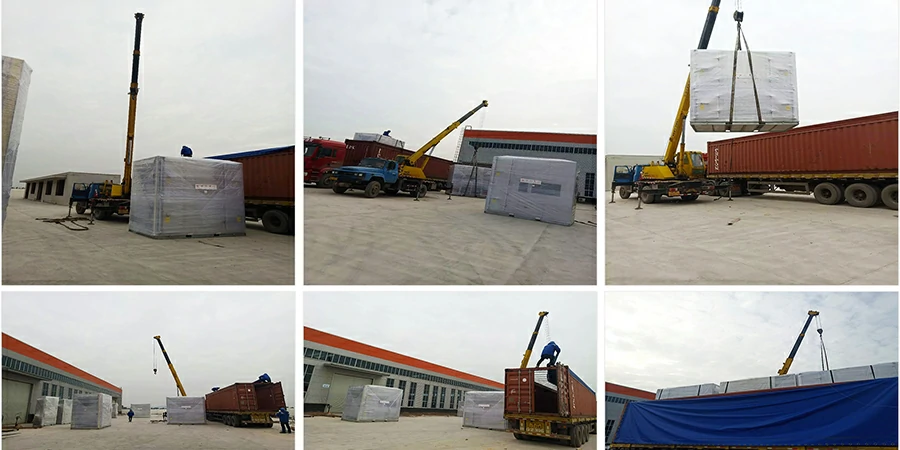 On 17th Nov., two sets of SBDD14400FL, a set of multifunctional sludge grinder and other accessories customized by Shincci for Polish users were loaded in three open top containers and two 40'HQ, the five containers will be sent to Ostrov, Poland. After the equipment arrives, Shincci will have professional engineers go to the project site to assist in the installation and commissioning of the equipment. The project mud belongs to municipal sludge, the water content of the incoming sludge is about 80%±2%, and of discharged dried sludge is ≤10%.

The planned delivery of this equipment has enabled Shincci Equipment to take another step towards overseas markets, and make further achievements in global competition, so that more people will know China's environmental protection capabilities, as well as the technology and innovation of sludge drying equipment manufacturing.
The market is the sea, the quality is the ship, and the brand is the sail. Shincci has worked hard in the field of low-temperature evaporation technology for nearly two decades. Shincci sludge low-temperature drying equipment has a complete process research and after-sales system. Innovative concepts enable continuous updates and iterations in product; in terms of project performance, it has accumulated 1000+ project experience and ranked top in the field of low-temperature sludge disposal. Based on the recognition of the company's brand reputation, technical strength, and service capabilities, in recent years, Shincci has always been the first choice for customers. In the international market, the products are well sold in more than 20 countries including the United States, Germany, Britain, Italy, Romania, Turkey, Iran, Indonesia, Japan and South Korea, and Taiwan Province.
Shincci will continue its core mission to "enpower to the world" and increase Shincci's energy for purifying the environment. Drive the domestic and overseas markets with innovation, strive to leave more "Shincci footprints" in the world, and become a trustworthy brand in the near future.